Organisation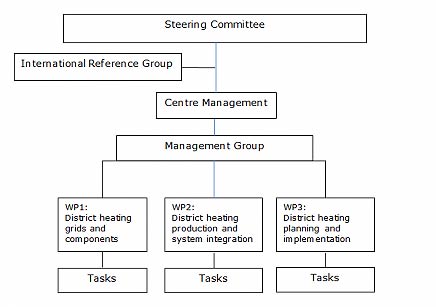 Organisation chart

Read more about the work packages WP1, WP2, WP3:
Work package 1: District Heating Grids and Components
This WP focuses on the research, development and evaluation of low-temperature district heating systems based on renewable energy. The research basically provides new knowledge of the hardware and software technologies of the new generation of district heating systems supplying heat to existing energy renovated buildings and new low-energy buildings.
The hypothesis is that low-temperature district heating, with a general supply and return temperature of 50°C and 20°C, can be used in existing district heating systems, if minor modifications are implemented in the systems for room heating and domestic hot water supply of the existing buildings.

Work package 2: District Heating Production and System Integration
The hypothesis of this WP is that 4DH has an important role to play in efficient future energy systems. The WP develops energy systems analysis tools, methodologies and theories for the study and scenario-building of future sustainable energy systems with the aim of identifying the role of district heating systems and technologies in various countries.
The European project partners engage in the development of EU policies and strategies to define the role of district heating, and similar activities are carried out by the Chinese partner. This includes an investigation of the balance between heat savings and heat supply...

Work package 3: District Heating Planning and Implementation
This WP focuses on the further development of the planning and management systems based on spatial analysis and geographical information systems (GIS) as a tool for planners and decision-makers. This includes the further advancement of theories and methodologies as well as the design of specific public regulation measures.
The latter focuses on how to manage the conflict between implementing energy conservation in buildings and...
Tweet